Jury retires in Nemtsov murder trial
Comments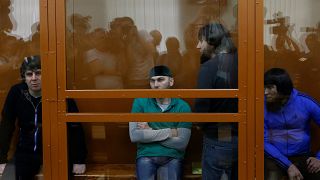 Jurors in the trial of five men accused of murdering Russian opposition leader Boris Nemtsov have retired to consider their verdicts.
The outspoken opponent of President Vladimir Putin was shot dead as he walked across a bridge near the Kremlin at night in 2015.
His murder shocked Russia's opposition and was condemned around the world.
The judge has now summarized the evidence and left the jury to deliberate.
All five defendants, from the Russian region of Chechnya, deny the charges of contract murder and the illegal acquisition, carrying and keeping of weapons.