Russia threatens to block Telegram app over terror links
Comments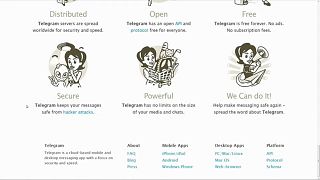 Russia has launched another attack on the Telegram messaging app after accusing it on Friday of breaking the law by not handing over encrypted information.
Now the FSB, the country's security service, says terrorists use the chat service to plot atrocities on Russian soil. It describes the service as the "most widely used app of its kind."
The FSB claims a suicide bomber who blew himself up at St Petersburg metro station in April had used Telegram to plan the attack in which 15 people died.
The app's founder, Pavel Durov, says Russian regulators have asked for the keys to decrypt user messages but he insists the demand violates the constitutional right to keep correspondence secret.
"If you want to defeat terrorism by blocking stuff, then you have to block the internet as well," wrote Durov in a message on social media.
'Pavel Durov is an anarchist'. How network television is preparing Russians for the banning… https://t.co/5dWWK0J3jbpic.twitter.com/G92FVQL52O

— Paulo Félix (@osint) June 26, 2017