Hopes fade of finding more China landslide survivors
Comments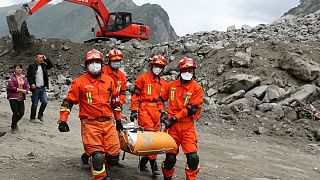 Authorities in China say a further ten bodies have been recovered from the scene of a massive landslide in the southern province of Sichuan.
However, they say the hopes of finding any more survivors among the 93 people still missing are fading fast.
On Saturday 15 bodies were found, but a couple and their new-born baby were pulled out alive.
The Vice Governor of Sichuan Province, Wang Minghui, told a news conference: "Geologists helping in the rescue say the chances the missing people survived a landslide from such a height are small, especially as the site is so narrow that large-scale search operations are hard to conduct in the area.
"In addition, the rescuers can't dig too deep, so as to avoid triggering a new collapse of the rocks.
"However, despite all these adverse factors, our top priority is to spare no effort in trying to save people's lives."
The landslide in Xinmo village in Mao county is thought to have been triggered by heavy rain.
Experts say an incredible 18 million cubic metres of earth and rock came crashing down on people's homes.