Deadly clashes in C.A.R. despite truce
Comments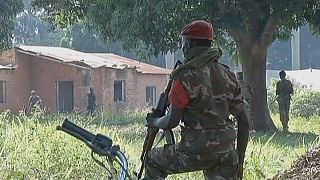 Dozens have been killed in the Central African Republic in fighting between rival armed factions just one day after the signing a ceasefire aimed at ending years of bloodshed.
Around 50 people are thought to have died with many more injured.
Witnesses described bodies lying in the streets of Bria , a town some 500 kilometres north east of the capital Bangui and a regular flash point.
Monday 's truce is only the latest in a series of agreements. It was intended to bring armed groups into the political process in exchange for ending attacks.
Thousands of people have been killed and thousands displaced since mainly Muslim Seleka rebels ousted President Francis Bozize in 2013.
The move triggered a violent backlash from mostly Christian militias.