Watch: Drone footage shows aftermath of Portugal's deadly wildfire
Comments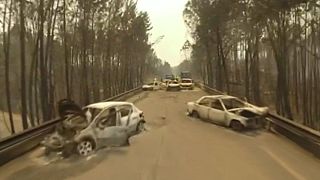 This is the drone footage which offers a glimpse of the devastation caused by one of Portugal's deadliest forest fires.
The blaze has so far killed 62 people, many of whom died in their cars as they were fleeing the flames that destroyed their homes.
Drone footage shows the burnt-out wreckage of cars strewn across a main road leading through the Pedrogao Grande area.
Portugal Prime Minister Antonio Costa said the emergency services acted as fast as they could but acknowledged that some of the efforts like alerting the population might have been hindered because the blaze had ruined phone lines and communications towers.
Some local residents said they had been left without firefighters for hours as their homes burned. Many blamed poor forestry reserve planning and depopulation of remote villages that left many wooded areas untended.