What impact did climate change have on Portugal's deadly wildfire?
Comments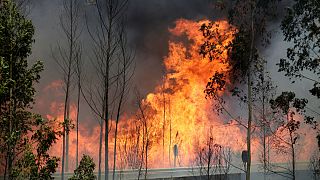 Global warming was a factor in a deadly wildfire that hit central Portugal and left more than 60 people dead, it's been claimed.
Thomas Curt, a researcher at the National Research Institute of Science and Technology for Environment and Agriculture, said climate change had extended the wildfire season from two to up to five months.
Curt, asked what role global warming plays in wildfires such as the ones seen in central Portugal, said: "It is a certainty, we are witnessing a rise in temperatures, but a warmer air is synonymous with drier, more flammable vegetation.
"These meteorological conditions increase the risk of fire but also their intensity. We can now see fires, like that of Portugal, which firefighters can hardly extinguish.
"Moreover, during the last fifty years, the fire season, before reduced to July and August, is extended from June to October."
Curt said on top of climate change Portugal had an 'enormous amount of combustible vegetation' such as pine forests and eucalyptus trees.
"In addition, the entire Iberian peninsula, including Portugal, is currently facing a particular meteorological situation. It is much hotter and much drier than usual in June.
"However, each time you gain degrees, you increase the risks and intensity of fires.
"As a further aggravating factor, the Iberian Peninsula is experiencing global warming more severely than other regions.
Curt also said there was a growing trend of large, covering 100 hectares, and 'mega' wildfires, affecting more than 1,000 hectares.
"It is really a growing problem all over the world and especially in Mediterranean Europe," he added.
"They are still rare, accounting for only 2-3 percent of the fires, but are responsible for three-quarters of the burned areas.
The different analyses of climate change show that these great fires will become more and more probable."