US Navy names seven sailors killed in USS Fitzgerald collision
Comments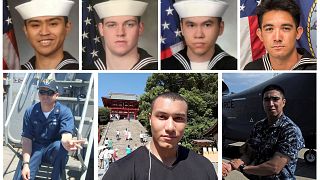 The US Navy has identified the seven sailors who died on the USS Fitzgerald. It released a statement confirming their bodies were found in flooded berthing compartments following a collision with a Philippine-flagged container ship near the Japanese port city of Yokosuka.
Japan confirmed an investigation was underway in cooperation with the US.
The sailors who died were aged between 19 and 37 and varied in rank. Three people were taken to hospital.
Many of the destroyer's crew members were asleep at the time of the crash.
Multiple inquiries are underway on how such a collision could occur in clear weather.