Amid rising questions, London inferno death toll set to rise
Comments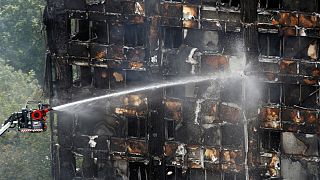 Nearly two days after the deadly inferno that gutted a tower block in London, the ruins continue to smoulder.
Firefighters worked through the night trying to reach upper floors of the 24-storey block.
The official death toll stands at 17 but that is likely to rise with people still unaccounted for.
Hundreds of people would have been asleep in the Grenfell tower when the blaze broke out at 1am on Wednesday morning.
British Prime Minister Theresa May has ordered a full public inquiry, amid mounting questions about how the tragedy happened.
"Right now, people want answers and it's absolutely right and that's why I am today ordering a full public inquiry into this disaster," she said.
"We need to know what happened, we need to have an explanation of this. People deserve answers, the inquiry will give them."
May visited the scene on Thursday.
'How the hell could it happen?': how newspapers reacted to Grenfell Tower tragedy https://t.co/EfkvYoYUxVpic.twitter.com/bHmiOOxQwb

— Telegraph News (@TelegraphNews) June 15, 2017
Anger in community after Grenfell Tower residents' concerns 'ignored' https://t.co/epFbGsT8Qfpic.twitter.com/SwHWvanqVo

— Daily Mirror (@DailyMirror) June 15, 2017
A police helpline has been set up for those who are attempting to locate missing people. The number is 0800 0961 233.
Social media has also been used by many people.
Eighteen of the more than 70 people injured remain in a critical condition. More than 30 people are still in hospital.
Local authorities had already promised a full inquiry, amid concern the cladding used in recent renovations was responsible for the fire spreading so fast.
Grenfell Tower block residents 'have right' to ask questions after blaze, says fire union chief https://t.co/93IAU2DA3Jpic.twitter.com/i0pCpOt04E

—

ITV

News (@itvnews) June 15, 2017
Eyewitness Amina Sharif told reporters: "It went literally up. It started firing from the outside, all the way to the roof and then all the way down.
"And then by then we could see a lot of children and mothers and fathers screaming for help, help, help, and putting their hands on the window and asking, asking to help them."
Another eyewitness, Peaky Saku, said: "I could see toppling things coming out, coming out of the building and when my friend told me he saw people jumping out of the building, like, I wasn't sure, like I wasn't fully calm.
"All I know is there was literally screaming going on all the time and people shouting and screaming".
Reports in the UK say the cladding used in the tower is thought to have been behind the quick spread of a fire in a tower block in Melbourne, Australia, in 2014.
The blaze on the eighth floor of a tower block quickly spread up 13 floors to the roof in just 11 minutes. It is reported firefighters directly linked the cladding to the speed of the fire spreading.
Residents of the London tower say they repeatedly warned about the fire risks and disaster was narrowly avoided four years ago after a power surge.
There has been a big relief effort to raise money for the victims of the fire.
Adele 'comforts' people affected by Grenfell Tower fire during emotional visit https://t.co/WVcb0UNFbdpic.twitter.com/7sWD9VuehA

— Telegraph News (@TelegraphNews) June 15, 2017
More than one million pounds has already been raised via online donations.
Charities and nearby residents are also helping those left homeless.