Kremlin critic Navalny jailed, hundreds arrested at anti-Putin protests
Comments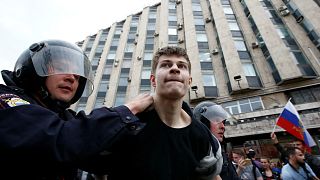 Russian opposition leader and anti-corruption campaigner Alexei Navalny has been sentenced to 30 days in prison, after a day of protests against President Vladimir Putin that saw hundreds of people arrested in Moscow, Saint Petersburg and other cities on Monday (June 12).
The protesters chose Russia Day to make their voices heard, and Navalny called on those in Moscow to gatecrash a historical re-enactment on Tverskaya street in the city centre. People shouted "Putin is a thief" and "Russia without Putin" before being dragged away by police.
While only popular with a minority Navalny's reputation is growing and this latest protest was designed to see if his movement retains the momentum that saw it bring some 60,000 people out around the country in March to protest against the alleged corruption of Prime Minister Dmitry Medvedev.
Russia is now heading into an election period which culminates next March in a presidential vote expected to give Putin another six years in power. Navalny is struggling to get his name on the ballot so he can run against the president.
Navalny was arrested at his apartment on Monday before he could even join the demonstrators. At a midnight court hearing, a judge found him guilty of repeatedly violating the law on organising public meetings and sentenced him to 30 days in prison. Navalny already served a 15-day jail term after the March protest.