Jeremy Corbyn: 'pretty clear' who won UK election
Comments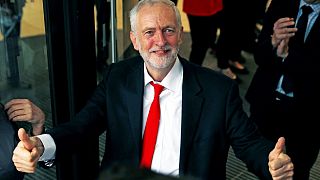 Jeremy Corbyn, leader of the UK's Labour Party, has won wider support in the British election than anyone had foreseen.
Analysts say his old-school socialist platform and more impassioned campaigning won over many voters.
He said that considering the "amazing response and traction" Labour received, it was "pretty clear" who won the election.
"I think everyone in the Labour Party and everyone who supported the Labour Party yesterday – young people, old people, everyone in between – I think they should be very proud of what we achieved yesterday."
"It was her decision to call the election, it was her name out there and she was saying she was doing it to bring about strong and stable government. It doesn't look like a stable government, it doesn't look like a government that has any programme whatsoever."
Jeremy Corbyn says he's "ready to serve the country," and repeats that May should resign https://t.co/QhV2MzgWHLpic.twitter.com/w2kQUYEzGB

— Bloomberg Politics (@bpolitics) June 9, 2017
The Scottish National Party (SNP) suffered a setback, losing 21 of their 56 seats to parties that want to keep the UK intact.
SNP leader Nicola Surgeon wants to form an alliance with like-minded parties to keep the Conservatives out of government, and as part of Brexit talks, to keep Scotland and the UK within the single European market.
The pro-EU Liberal Democrats had mixed results. It's former party leader Nick Clegg, who was deputy prime minister from 2011 to 2015, lost his seat.