UK election: What will a hung parliament mean for Brexit
Comments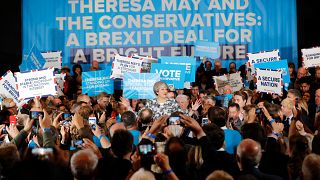 The results of the UK general election are almost all in and it will be a hung parliament, meaning that the timetable for Brexit just got more complicated for the UK
After Article 50, was triggered in March, a date of March 2019 was automatically set for the UK to leave the European Union, even if no agreement on the terms of the divorce had been reached by then.
During the election campaign, Theresa May insisted that "No deal is better than a bad deal". And, with no clear Conservative majority in the House of Commons, "No deal" now looks considerably more likely.
This would mean the UK having no level of preferential access to EU markets, putting it at a huge disadvantage to other trading nations.
Talks on the matter were pencilled in to begin on June 19th.
If the country does not have a government, the date will have to move. Negotiations will not be able to begin until a new election is held. This will not be for at least six weeks, eating up valuable time.
Concessions
The UK could ask for an extension to the negotiating timeframe, which would require the agreement of all the other 27 EU nations. This would probably oblige London to make substantial concessions – for instance on payments due to Brussels – before even beginning the talks.
7. Madness to trigger Article 50 two-year period and then call a needless general election. A hung parliament always a possibility.

— David Allen Green (@davidallengreen) June 9, 2017
Theresa May said she called the elections because she wanted a stronger mandate from the country to improve her negotiating position in Brussels. She seems to have got the opposite and undermined her ability to bargain hard for a clean separation with minimal obligations.
Second Referendum
Former UKIP leader Nigel Farage said this evening that the result raises the possibility of another referendum over the decision to leave the EU. That could prompt him to return to politics, he said. How he would fare in another election would remain to be seen: UKIP have thus far lost over 10% of their vote share.
Article 50 had been triggered and we were on our way. May has put all this in jeopardy. Even David Davis is now making Brexit concessions.

— Nigel Farage (@Nigel_Farage) June 9, 2017
Of the major parties, only the Liberal Democrats and the Scottish Nationalist Party (SNP) committed themselves to any sort of second look at the decision to leave the European Union. Although the Liberal Democrats have slightly more seats than they had won in 2015, the SNP have lost some of their share of the vote, so neither is in a strong position to push for a second referendum.
In a hung parliament, however, those who wanted the UK to remain in the EU may try to exploit the uncertainty to their advantage.
Nevertheless, both the Conservatives and Labour have expressed their commitment to withdrawing from the EU, even if Jeremy Corbyn is looking to maintain a closer relationship than Theresa May wants.