May set to form new government with help from Northern Ireland
Comments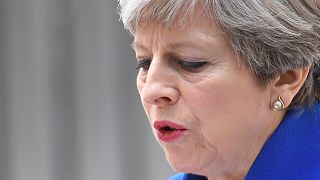 British Prime Minister Theresa May will form a government supported by a small Northern Irish party after her Conservative Party lost its parliamentary majority in an election debacle days before talks on Britain's EU departure are due to begin.
A stony-faced May, speaking on the doorstep of her official Downing Street residence, said the government would provide certainty and lead Britain in talks with the European Union to secure a successful Brexit deal.
May said she could rely in parliament on the support of her "friends" in Northern Ireland's Democratic Unionist Party after her governing Conservatives failed to emerge as clear winners.
Confident of securing a sweeping victory, May had called the snap election to strengthen her hand in the European Union divorce talks. But in one of the most sensational nights in British electoral history, a resurgent Labour Party denied her an outright win, throwing the country into political turmoil.
EU leaders expressed fears that May's shock loss of her majority would delay the Brexit talks, due to begin on June 19, and so raise the risk of negotiations failing.
Her Labour rival Jeremy Corbyn, once written off by his opponents as a no-hoper, said May should step down and he wanted to form a minority government.
But May, facing scorn for running a lacklustre campaign, was determined to hang on. Just after noon, she was driven the short distance from Downing Street to Buckingham Palace to ask Queen Elizabeth for permission to form a government – a formality under the British system.
With 649 of 650 seats declared, the Conservatives had won 318 seats and Labour 261 followed by the pro-independence Scottish National Party on 34.
The shock result thrust Northern Ireland's centre-right DUP into the role of kingmaker, with its 10 seats enough to give the Conservatives a fragile but workable partnership.
"Our two parties have enjoyed a strong relationship over many years and this gives me the confidence to believe that we will be able to work together in the interests of the whole United Kingdom," May said.