Lebron James hits out over 'hate crime' after LA home vandalised with graffiti
Comments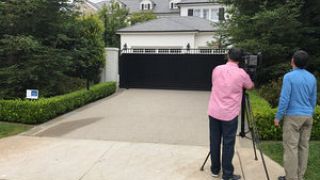 NBA superstar LeBron James has condemned hate in America after his LA home was vandalised with racist graffiti.
It comes as the Cleveland Cavaliers MVP prepares to take on Golden State Warriors in the NBA finals on Thursday. James was not at the residence at the time of the incident
"It doesn't no matter how much money you have, no matter how famous you are, no matter how many people admire you, being black in America, it's tough. And we've got a long way to go. For us as a society and for us as African-Americans, until we feel equal."
LeBron James shares thoughts on his Los Angeles house getting vandalized. pic.twitter.com/4RFLK42xhu

—

NBA

TV (@NBATV) May 31, 2017
Sources suggest the N-word was daubed over James' gate at the 21-million dollar property. However, Los Angeles police spokeswoman Norma Eisenman declined to say what racial slur was used and are treating it as an act of vandalism. It's unclear whether it will be branded as a hate crime but for James' neighbours in Brentwood there is no doubt and they have expressed shock and outrage.
"This is his home. This is where his family chooses to live a portion of the time and for somebody to come here and to demean it in the way that they have done is unconscionable," said Jody Konstand.
Mary Kay Wulf, who lives a couple houses away from James, told a group of reporters that she was appalled: "I hope that they find the people who have done it and they label it for what it was – a hate crime – and punish them."
James, 32, took the Cavaliers to the NBA title last year, the third championship of his career. He is the sport's most prolific playoff scorer and has been named the league's Most Valuable Player three three times.