Thousands turn out for annual Gloucestershire cheese rolling event
Comments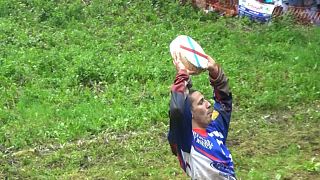 This year's Gloucestershire cheese rolling event did not disappoint as risk-takers flocked from across the UK to throw themselves down the now-famous Cooper's Hill in pursuit of a wheel of Double Gloucester cheese.
The drizzly English weather didn't stop thousands of people turning out, amongst them 29-year-old Chris Anderson from Brockworth, winner of this year's men's race, who has now equalled the all-time record for winning the event.
Anderson and winner of the women's event, 18-year-old Keavy Morgan, also from Brockworth, both took home a wheel of cheese after passing the finish line at the bottom of the hill before their competition.