Syria: Turkey slams US move to arm YPG militia
Comments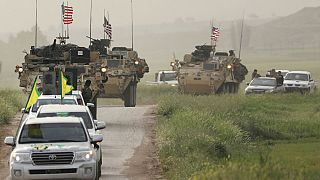 Turkey has slammed a US decision to supply arms to Kurdish militia fighting ISIL in Syria.
Turkey's foreign minister Mevlüt Çavuşoğlu described the move as ''extremely dangerous''.
The angry reaction from Ankara came after the Pentagon confirmed on Tuesdaythat the weapons shipments were approved ahead of a major offensive to recapture Raqqa, ISIL's de facto capital in the country.
President Donald Trump is believed to have made the decision to arm YPG fighters earlier this month.
Washington's NATO ally views the YPG as the Syrian extension of the outlawed
Kurdistan Workers Party, or PKK. The separatist group continues to fight an armed insurgency
in southeast Turkey.
The US, however, has said the YPG is ''the only force on the ground that can successfully seize Raqqa in the near future.''