Manchester attack: UK lowers terror threat level
Comments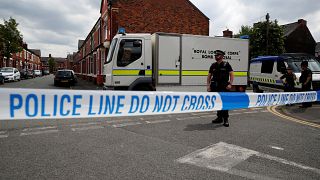 As more arrests were made on Saturday in Manchester by police investigating the suicide bomb attack at a pop concert, Britain lowered its security threat level from the highest rating 'critical', meaning an attack could be imminent, to 'severe'.
Officers used a controlled explosion to gain entry to one address in the northern English city as reports said the bomb squad was called to another.
The government's emergency Cobra committee met on Saturday morning amid talk of "immense" progress in the inquiry.
A "large part" of the terror network is said to have been apprehended.
At least 11 people remain in custody.
Following the Cobra meeting, British Prime Minister Theresa May announced that the independent body which sets the threat level had decided it should be lowered.
The PM has announced the terror threat level has now been changed from critical to severe. Watch her statement. pic.twitter.com/iQMNgEnuEz

— UK Prime Minister (@Number10gov) 27 mai 2017
"This is an ongoing investigation and obviously the police and security services are continuing to look into the terrible attack that took place but significant activity has taken place by the police over the last 24 hours and it is in the light of that that the independent JTAC, the Joint Terrorism Analysis Centre, has taken the decision to reduce the threat level from 'critical' to 'severe' but the public should be clear that a 'severe' threat level does mean that an attack is highly likely and everyone should remain vigilant," May said.
British-born suicide bomber Salman Abedi killed 22 people, including seven children, on Monday at the Ariana Grande concert at Manchester Arena. Scores more were injured.
The UK remains acutely aware of the terror risk this Bank Holiday weekend, with tight security at a number of high-profile events including football cup finals in London and Glasgow and the Great Manchester Run.
The Times newspaper reported on Saturday that intelligence officers had identified 23,000 jihadist extremists living in Britain.
There are 23,000 jihadist extremists living in Britain as potential terrorist attackers https://t.co/BPK0iSadFapic.twitter.com/FStaPim0OG

— The Times of London (@thetimes) 27 mai 2017
with Reuters