Manchester terror attack: artists react
Comments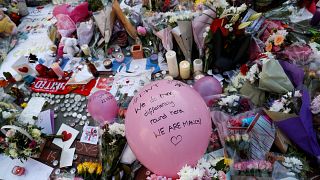 Artists from around the world have joined world leaders' calls for solidarity with Manchester creating depictions that highlight both the British city's resilience in the face of tragedy and the barbarity of the suspected ISIL-linked terror attack.
In Manchester where 22 people were killed in a suicide bombing attack Monday evening, two new murals have emerged from locally-based street artist Qubek in honour of the city and its people.
The two murals, both still works in progress, depict worker bees flying around two hands in the shape of a heart and another making the form of a peace sign.
Worker bees have been the symbol of Manchester, a north-western city in the UK, since the Industrial Revolution.
The two murals were unveiled Wednesday on Stevenson Square in Manchester's Northern Quarter – a neighbourhood known for its nightlife and bohemian culture.
Qubek was joined by other Manchester-based artists, like J-Clique and Kate Cocker, who took to representing the city's emblem.
Manchester Bee – In support of those affected in Monday's incident. Donate here ; https://t.co/cwtq8Yl2YR#WeStandTogetherpic.twitter.com/Ww14Vtg66N

— J_Clique (@J_Clique) May 24, 2017
"The people here are really tough, but the endless streams of horrifying and divisive updates can wear you down," said J-Clique.
Across the city local artists had been donating examples of their work for an upcoming art competition and among the latest entries are those celebrating the city.
So far local artists have donated over 30 pieces of work for the #WeStandTogether fund including this beauty by K8Cocker</a> Incredible support <a href="https://t.co/ANqxVKGfmP">pic.twitter.com/ANqxVKGfmP</a></p>— ArtBattleManchester (ArtBattleMCR) May 24, 2017
In Toronto, street artist Victor Fraser posted on social media a pavement mural he completed in honour of the victims.
He said there is "only one answer to acts of hate by cowards," Fraser wrote on his Instagram. "Love kindness understanding and yes empathy."
He added that despite the state of tension felt in the UK following the country's worst terror attack in more than 10 years, others "MUST act in love" towards those who "can act in hate."
But while some chose to focus on the city's strength and good will, political cartoonist focused on the barbarity of Salman Abedi, his suspected network of militants and their targeting of children at the Manchester Arena.
#ManchesterBombing in a #cartoon by EmadHajjaj</a> <a href="https://t.co/i2mK26FJdV">pic.twitter.com/i2mK26FJdV</a></p>— Emad Hajjaj Cartoons (EmadHajjaj) May 24, 2017
Wheel of terror… #Manchester#ManchesterBombing#England#Europe#terrorattack#terrorism#isisTheBuffaloNews</a> <a href="https://t.co/d6qGti6G6s">https://t.co/d6qGti6G6s</a> <a href="https://t.co/kjALlV8ffF">pic.twitter.com/kjALlV8ffF</a></p>— Adam Zyglis (adamzyglis) May 24, 2017
The stream of artist tributes this week is further joined by a weekend fundraising effort from Mancunian tattoo artists.
Tattooist revealed earlier this week they'll offer €58 bee tattoos to generate money for the families of the attack victims.
Tattooists across Manchester are doing the Manchester bee tattoo for £50 this weekend and the money going to the families pic.twitter.com/IjcHpS9tM5

— Jack Mull (@J4CKMULL) May 23, 2017
The drive was so popular that, by Thursday, more than a thousand people showed interest on social media and availability was scarce among participating tattoo parlours.
At least 22 people were killed Monday evening when Abedi detonated an explosive device as thousands of people left an Ariana Grande concert.
Police suspect Abedi did not act alone and are investigating the scale of the network police suspect he belonged to.
As many as eight people have so far been arrested in the UK. Two others have been detained in Libya.