Trump sees ''rare opportunity'' for Middle East peace
Comments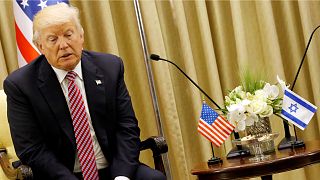 Donald Trump has said he believes he has a ''rare opportunity'' to bring peace to the Middle East after arriving in Israel.
Greeted by Israel's prime minister Benjamin Netanyahu at Ben Gurion airport, Trump became the first sitting US president to visit Jerusalem's Western wall in a visit heavy on symbolism and rhetoric.
Later, at a joint news conference both leaders expressed hope of a regional deal, but were scant on details.
"I believe that a new level of partnership is possible and will happen – one that will bring greater safety to this region, greater security to the United States, and greater prosperity to the world. This includes a renewed effort at peace between the Israelis and the Palestinians,"
Trump said.
Pouring praise on the President, Prime Minister Netanyahu echoed Trump's sentiments:
Netanyahu said:"It won't be simple, but for the first time in many years, and Mr President, for the first time in my lifetime, I see a real hope for change. The Arab leaders who you met yesterday could help change the atmosphere and they could help create the conditions for a realistic peace."
Trump is set to hold separate talks with Palestinian president Mahmoud Abbas on Tuesday.
During his first day in the Holy Land, the US leader also assured the Israeli PM that Iran would never have nuclear weapons.