Israelis and Palestinians react to Trump-Netanyahu meeting
Comments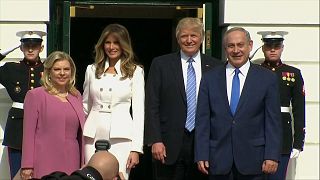 Yesterday's meeting between US president Donald Trump and Israeli Prime Minister Benjamin Netanyahu was seen by many as a reversal of almost two decades of middle eastern policy.
Some viewed his decision not to endorse the two-state solution backed by his predecessors, thereby abandoning America's goal of an independent Palestinian state, as a step backwards.
But some on both sides of the border were more optimistic.
Richard Bell, a resident of Jerusalem said: "It was important for Netanyahu that Trump does not insist on two states, because there is some serious opposition, both in the Likud (Netanyahu's party) and the right-wing parties in the government, to the idea of a two-state solution
While Trump said that his government would push for a peace deal and that he'd like to see a temporary settlements, the sudden change in US policy left many wondering what the future holds.
Labeeb Taha, a Palestinian Ramallah resident said: "It was an opportunity for (Israeli Prime Minister Benjamin) Netanyahu to stop his lies about him supporting the two-state solution. We all know that he was lying in this issue and no one on earth will believe that Netanyahu is going for the two-state solution unless the Palestinian state will be established in another planet."
Palestinians living in the West Bank were evidently disheartened by Trump's new stance.
With the new president saying that both sides will have to compromise, many are wondering who will have to sacrifice the most.