LGBT community under increasing attack in Indonesia
Comments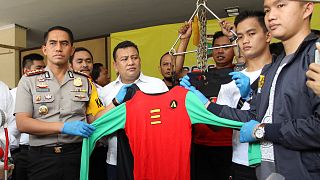 Police in Indonesia have arrested 141 men for allegedly attending a gay sex party at a sauna in the capital Jakarta.
Authorities raided the sex party known as 'The Wild One' on Sunday.
Gay sex is not illegal in Indonesia, however authorities say Indonesia's strict pornography laws have been violated.
Discrimination
The LGBT community in the country says it is coming under increasing attack following outspoken and prejudicial remarks from conservative politicians.
Indonesia arrests 141 over 'gay party' https://t.co/fE4Hp6MYgmpic.twitter.com/SdXPOlPIbH

— kwadwo Anim (@AnimKwadwo3) 22 May 2017
Last month police swooped on a gay gathering in a hotel in Surabaya.
public flogging
In another incident two men arrested last March have been sentenced to 85 lashes of the cane by Aceh's sharia courts.
The public flogging is due to take place on Tuesday.
Indonesia police arrests dozens in raid on Jakarta gay sauna https://t.co/KKou1mF4L0pic.twitter.com/wKDnQvHk9A

— Telegraph News (@TelegraphNews) 22 May 2017
Human Rights Watch and other rights groups have called for the sentence to be halted.
Police say those arrested in Sunday's operation, including the owner, may face prosecution under Indonesia's anti-porn law.
This will allow the courts to pass more extreme sentences.
It has emerged that a British national was among those taken into custody.
To date 10 people have been charged and if found guilty they face up to ten years in jail.
Lawyers representing those held say the arrests were 'arbitrary' and officers abused their human rights by photographing them naked and posting pictures on social media.