Macron visits troops in Mali, keeping campaign pledge
Comments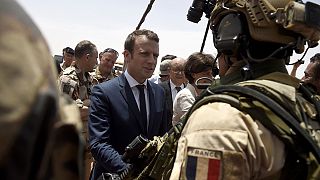 In his first official visit outside Europe, president Emmanuel Macron says France will be ''uncompromising'' in the battle against Islamist extremists in Mali.
The new French premier met Malian president Ibrahim Keita in Gao, a northern city where French troops are based.
Pres Macron to French soldiers stationed in the city of Gao in #Mali's deeply troubled north.#barkhane#chad#mauritania#burkinafaso#nigerpic.twitter.com/YHosmNzdGV

— Noy (@Noy_Official) May 19, 2017
The trip fulfills a campaign promise to visit troops, and show support, as Macron himself underlined; saying at a press conference: ''France has been determined to remain at your side and offer security, not only in Mali but in the Sahel region. We will continue to commit our forces and we will remain committed to a political and diplomatic roadmap, which I'm especially dedicated to.''
France, the former colonial power in Mali, intervened in 2013 to drive al-Qaeda-linked militants from the region.
Macron said he hopes Germany will continue to support the French and UN mission in West Africa, even if they will not intervene directly.
After their recent meeting in Berlin, Macron said he and Chancellor Merkel had discussed the issue, and she had been supportive.