Afghanistan: fatalities as militants attack state TV station in Jalalabad
Comments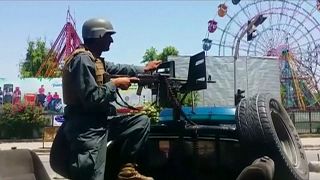 Gunmen in Afghanistan have attacked a national TV and radio station in the eastern city of Jalalabad, engaging in a battle with security forces.
Police said two of them with suicide bombs blew themselves up. The local governor's office said at least two civilians had been killed, suggesting that four attackers were involved.
More than a dozen people including journalists are said to have been injured.
Jalalabad is the capital of Nangarhar province near the border with Pakistan where fighters from the so-called Islamic State group have established a stronghold.
It wasn't immediately clear how many attackers were involved. Exchanges of gunfire continued more than two hours after the assault began.
The broadcasting centre is less than 300 metres from the police headquarters.
Afghan media have often been targeted during the conflict. Last year 13 journalists were killed, according to a support group set up to help protect them.