Army mutiny over pay ends in Ivory Coast
Comments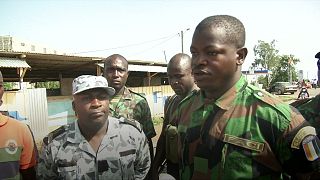 A five day long army mutiny over pay has ended in Ivory Coast after the mutineers accepted an increase in bonus payments.
The soldiers have shot at protesters who opposed their mutiny, wounding six on Sunday, and they've also set up roadblocks.
Mutinying soldiers stand guard at a check point at the entrance to Bouake, Ivory Coast pic.twitter.com/yvRjOZ1hak

— Russell Boyce (@Cropperboyce) May 15, 2017
Most of the 8,400 mutineers are former rebels who helped President Alassane Ouattara to power.
"After what President Ouattara said yesterday we are satisfied, we have convinced our colleagues and we'll go back to our barracks,"
Sergeant Cisse, a spokesman for the mutineers, said.
The mutineers will now receive a payment of 7,600 euros.
The renegade soldiers, who have paralysed cities and towns across the country since Friday, rejected an earlier deal announced by Defence Minister Alain-Richard Donwahi late on Monday.
Scattered gunfire was reported overnight on Monday in the commercial capital Abidjan and the western port city of San Pedro but had petered out by dawn. Many schools in Abidjan remained closed.
Last week in a nationally televised address they apologised publicly in a ceremony attended by Ouattara but the unrest continued.
Many Ivorians are tired of the ill-disciplined army.
"Every time the mutineers just rise up again and we are tired of this situation. We need for both sides to agree for good and not compromise negotiations," Abri Bernard, a resident of the central city of Bouake, said.
A collapse in the price of Ivory Coast's main export cocoa has hit the state budget Ouattara said, forcing him to make deep cuts to education and health spending.
International cocoa price plummets further – just 3 cents higher/kg than prices at Ivory Coast ports – meaning exporters face massive losses

— Tamasin Ford (@Tamasin_Ford) March 2, 2017
Ivory Coast is one of the world's largest growing economies but it suffered from a civil war that temporarily split the country in two in 2011 and it remains divided.