'Over 100' killed in cholera outbreak in Yemen capital Sanaa
Comments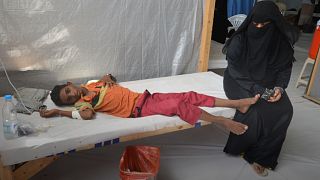 At least 115 people have been killed by an outbreak of cholera in the Yemeni capital Sanaa, according to the local Saba news agency.
It comes after health authorities in the country declared a state of emergency and called for international help to avoid an "unprecedented disaster".
Patients spilled out of hospital rooms into hospital corridors in Sanaa at the weekend.
The United Nations has said only a few medical facilities are still functioning and two-thirds of the population are without access to safe drinking water.
Sanaa is controlled by the armed Houthi movement which is fighting a Western-backed coalition led by Saudi Arabia.
After over two years of war more than 10,000 people have been killed and millions displaced across the country.
The Saba news agency and the International Committee of the Red Cross (ICRC) has said nearly 8,600 suspected cholera cases were recorded between April 27 and May 13. The World Health Organisation (WHO) has said that 7.6 million people in Yemen live in areas at high risk of cholera transmission.
The disease, which is transmitted through contaminated water and food, can be fatal within hours if left untreated.
#BREAKING: Cholera outbreak in Yemen's capital reaches Habra prison, multiple cases reported and transferred to hospital. pic.twitter.com/zZ2cMxQEh9

— Rudaw English (@RudawEnglish) May 15, 2017
"The humanitarian situation in Yemen is catastrophic" says our director of operations DStillhartICRC</a> today in Sana&#39;a. <a href="https://t.co/n8rkGhTd3X">https://t.co/n8rkGhTd3X</a></p>&mdash; ICRC (ICRC) May 14, 2017