North Korea will talk to US "if conditions are right"
Comments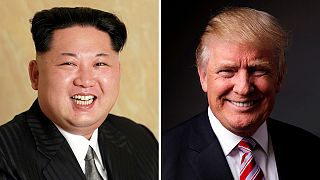 A senior North Korean diplomat reportedly says Pyongyang would have dialogue with the US if the conditions were right.
Where has the claim come from?
South Korea's Yonhap news agency.
It says the director general for US affairs in North Korea's foreign ministry, Choe Son Hui made the comment to reporters in Beijing.
(LEAD) Pyongyang will talk with Washington under right conditions: N.K. diplomat https://t.co/fvUzdfYIe0

— Yonhap News Agency (@YonhapNews) 13 mai 2017
What did she say?
"We will have dialogue if the conditions are there," Choe told reporters when asked if the North is preparing to hold talks with the Trump administration.
According to Yonhap, when asked if North Korea is also preparing to talk with the new South Korean government of liberal President Moon Jae-in, Choe reportedly said "We'll see."
Why is her comment significant?
It comes amid increasing international efforts to press North Korea over its pursuit of nuclear weapons capability.
Pyongyang has conducted five nuclear tests in defiance of UN and US sanctions.
It says it needs such weapons to defend itself against foreign aggression.
Choe had reportedly been in Norway for so-called "Track Two talks" with former US government officials.
A source with knowledge of the latest meeting said at least one former US government official took part but the US administration was not involved.
Senior #NorthKorea diplomat, Choe Son Hui, to meet ex-#UnitedStates officials in Europe https://t.co/urcMLEMsEd

— Kyodo News – English (@kyodo_english) 8 mai 2017
What has the US said?
In April, President Donald Trump warned that a "major, major conflict" with the North is possible.
Trump added he would prefer a diplomatic outcome to the dispute over its nuclear and missile programmes and that he would be "honoured" to meet the North's leader, Kim Jong Un, under the right conditions.
Kim Jong-un warns Donald Trump to avoid 'reckless provocation' of a nuclear WAR#trump#northkoreahttps://t.co/chUjLwcp3Dpic.twitter.com/2b5rnVooRb

— Daily Express (@Daily_Express) 3 mai 2017
What has South Korea said?
South Korea's Moon, elected on a platform of a moderate approach to North Korea, says he would be willing to go to Pyongyang under the right circumstances.
He says dialogue must be used in parallel with sanctions to resolve the problem of North Korea's weapons strategy.
Can South Korea's Moon Jae-in make 'sunshine' again with defiant North? https://t.co/0p5pzqm82u Reuters UK

— 점잖은 고양이 (@saramimeonjeoda) 5 mai 2017