North Korea accuses CIA of plot to kill leader Kim Jong-Un
Comments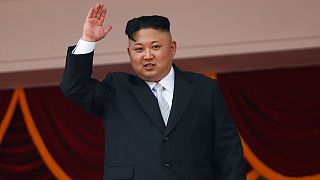 North Korea has accused the US and South Korea of plotting to kill leader Kim Jong-Un with a biochemical substance.
The Ministry of State Security claimed a terrorist group backed by the CIA and South Korea's intelligence agency had entered the country.
The chemical attack was due to be carried out during a public parade.
It comes after reclusive North Korea warned this week that US hostility had brought the region to the brink of nuclear war.
North Korea accuses CIA of 'bio-chemical' plot against leadership https://t.co/FaOfE8PFyu

— Reuters Top News (@Reuters) May 5, 2017
In a statement, North Korea said "the last-ditch effort" of US. "imperialists" and the South had gone "beyond the limits".
"The Central Intelligence Agency of the US and the Intelligence Service of South Korea, hotbed of evils in the world, hatched a vicious plot to hurt the supreme leadership of the DPRK and those acts have been put into the extremely serious phase of implementation after crossing the threshold of the DPRK," the North's KCNA news agency quoted the statement as saying, referring to the North by its official name, the Democratic People's Republic of Korea.
"A hideous terrorists' group, which the CIA and the IS infiltrated into the DPRK on the basis of covert and meticulous preparations to commit state-sponsored terrorism against the supreme leadership of the DPRK by use of bio-chemical substance, has been recently detected."
#UPDATE North Korea accuses CIA of plot to assassinate Kim Jong-Un https://t.co/wUykgCodYI#KimJongUnpic.twitter.com/Jfh65AT4BQ

—

AFP

news agency (@AFP) May 5, 2017
The state news agency said the two intelligence services "ideologically corrupted" and bribed a North Korean man with the surname Kim.
"They hatched a plot of letting human scum Kim commit bomb terrorism targeting the supreme leadership during events at the Kumsusan Palace of the Sun and at military parade and public procession after hisreturn home," it said.
The US Embassy in Seoul and South Korea's National Intelligence Service were not immediately available for comment.
Trump tells JenniferJJacobs</a> <a href="https://twitter.com/margarettalev">margarettalev he'd meet with Kim Jong Un under the right circumstances https://t.co/N9PedU1AnLpic.twitter.com/nfl9oRT2dU

— Bloomberg Politics (@bpolitics) May 2, 2017
US Secretary of State Rex Tillerson said this week that Washington was working on more sanctions against North Korea, if it takes steps that merit a new response.
He also warned other countries their firms could face so-called secondary sanctions for doing illicit business with Pyongyang.