North Korea detains a forth US citizen
Comments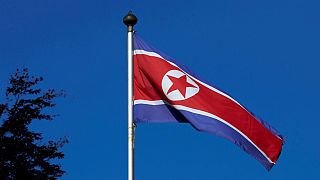 North Korea's state-run news agency has reported that another US citizen has been detained on suspicion of "hostile acts" against the state.
It means that four Americans are now being held amid heightened tensions with Washington.
The latest has been named as Kim Hak Song who worked for the Pyongyang University of Science and Technology (PUST).
The university was founded by evangelical Christians and opened in 2010. Its students are generally children of the country's elite.
A third US citizen, Kim Sang Dok, who was associated with the same school, was detained in late April for hostile acts, according to the North's official media.
The other two being held are Kim Dong-chul, who was sentenced to 10 years' hard labour for spying last year and student Otto Warmbier who has been sentenced to 15 years' hard labour for trying to steal a propaganda sign from a hotel.
The US has in the past accused North Korea of detaining its citizens to use them as pawns.
The reported detention comes as tensions on the Korean peninsula run high. Pyongyang has threatened to carry out a new nuclear test – while the US has sent a warship to the region and vowed to stop the North from developing nuclear weapons.