Third arrest in German army attack probe
Comments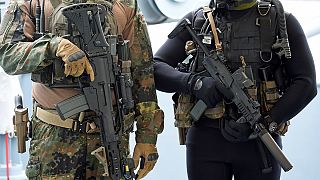 German police have detained a third man suspected of involvement in a plan by an army officer and a student to carry out an attack.
We are not through the worst of it yet

Defence Minister
He has been identified by prosecutors as Maximiliam T. a 27-year-old German citizen.
What has the prosecutor said?
"The accused is strongly suspected of planning a severe act of violence against the state out of a right-wing extremist conviction," said a statement.
What was the alleged plan?
To carry out an attack, possibly on left-leaning politicians who are in favour of immigration, the federal public prosecutor has said.
It is alleged the three had planned to carry out an attack and make it look like it had been the work of Islamist militants.
Former president Joachim Gauck and Justice Minister Heiko Maas were on a list of possible targets said to have been put together by the suspects.
Why are they searching all barracks in Germany?
Because the head of Germany's armed forces, General Inspector Wolker Veiker, has called for an inspection of all army barracks after investigators discovered Nazi-era military memorabilia in a garrison.
It has broadened the scandal about right-wing extremism among military personnel.
The discovery, at a barracks in Donaueschingen in the southwest of the country, was made during an investigation that began after similar Nazi-era items were found in the garrison of an army officer arrested on suspicion of planning a racially-motivated attack.
A preliminary report into the inspection of all barracks is due on Tuesday. The final results are expected on May 16.
Nazi memorabilia
Displaying Nazi items such as swastikas is punishable under German law. However, possession of regular Wehrmacht items is not.
Last week, Defence Minister Ursula von der Leyen said she would not tolerate the veneration of the Wehrmacht in the German army of today, the Bundeswehr.
Von der Leyen said the military must root out right-wing extremists.
Military anger
Von der Leyen provoked criticism from military sources and lawmakers last week when she criticised what she called "weak leadership" in the military after the officer's arrest on suspicion of planning a racist attack.
On Thursday, she apologised for the tone of her comments about the military over its handling of the racism case.
What they are saying
"The General Inspector has instructed that all properties be inspected to see whether rules on dealing with heritage with regard to the Wehrmacht and National Socialism are being observed," said a Defence Ministry spokesman.
"We must now investigate with all due rigour and with all candour in the armed forces. The process is starting now and more is sure to come out. We are not through the worst of it yet," Defence Minister Ursula von der Leyen told broadcaster ARD on Sunday evening.