Nepali pensioner dies during bid to climb Mount Everest
Comments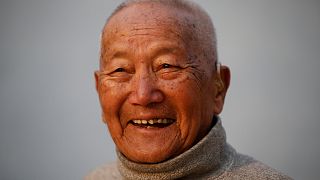 An 85-year-old man from Nepal, who was attempting to become the oldest person to climb Mount Everest, has died.
Officials say Min Bahadur Sherchan died at base camp on Saturday. The cause of death is still not clear, but a heart attack is suspected to be the most likely reason.
The former British Gurkha was trying to reclaim his own record from Japan's Yuichiro Miura, who climbed Everest aged 80 in 2013.
Sherchan, who had 17 grandchildren and six great-children first scaled the world's highest peak in May 2008 at the age of 76, becoming the oldest climber to reach the top.
Nepal does not allow climbers under the age of 16 to climb Everest, but has fixed no upper age limit.