Children from Aleppo town compete in local 'Olympics'
Comments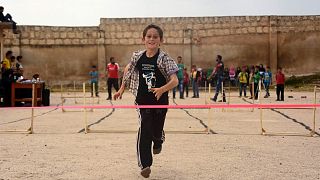 Children in a rebel-held Aleppo province town have been getting a taste of normal life thanks to an athletics competition.
Local reports said the events were organised by the Elite Sports Club in the northern Syrian town of al-Jeineh.
Some 200 children were due to compete over four days, with events such as sprints, hurdles and the long jump being held on makeshift courses.