Prince Philip to retire: 'he's done a pretty good job'
Comments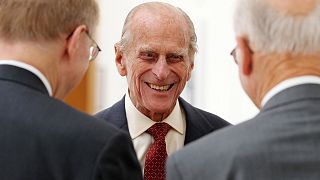 Prince Philip appeared alongside Britain's Queen Elizabeth at an engagement in London on Thursday, after the news that he is to retire from active public life later this year.
Buckingham Palace made the announcement earlier on Thursday. The Duke of Edinburgh took the decision himself with the support of the Queen, who will continue to carry out a full programme.
The prince is due to celebrate his 96th birthday next month. He will meet his obligations until August and no more from then on.
An announcement regarding The Duke of Edinburgh. https://t.co/SF1bgo68Unpic.twitter.com/TO9mR70xTk

— The Royal Family (@RoyalFamily) May 4, 2017
The news prompted speculation about the royals' health – and assurances that there is no cause for concern.
After more than 22,000 official engagements since 1952, some visitors and locals in London believe he has earned a rest.
"Prince Philip has worked very hard over many years, a bit controversial at times. He's never hesitated to speak his mind. But he's been belted up a few times by the media with criticism, some justified and some not. Overall I think he has done a pretty good job," said Clem Collins, an Australian tourist outside Buckingham Palace.
"It was only a matter of time really. I'm actually a massive fan. It will be sad to see him go, he makes some really funny comments, sometimes," added Briton Georgina Whittaker.
The Duke of Edinburgh is Patron, President or a member of over 780 organisations, with which he will continue to be associated. pic.twitter.com/lH2zsYKXsp

— The Royal Family (@RoyalFamily) May 4, 2017
Also renowned for the odd gaffe – the Duke of Edinburgh has been part of Britain's national life since marrying the then Princess Elizabeth 70 years ago. They went on to have four children.
The Duke of Edinburgh is the patron of over 780 organisations. On Wednesday this week he was seen opening a new stand at Lord's Cricket Ground.
The Queen has described him as her "strength and stay" – while on the day the news broke that he was to step down, the Duke joked: "I can't stand up much".
Since 1952, The Duke of Edinburgh has carried out 22,191 solo engagements. Find out more about His Royal Highness > https://t.co/jEYKpTzkZgpic.twitter.com/DC8yfGELcz

— The Royal Family (@RoyalFamily) May 4, 2017