How Madrid is hoping to attract talent and investment from a post-Brexit UK
Comments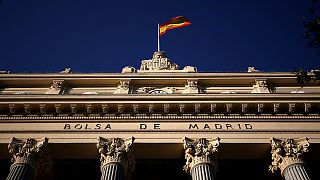 Spain's capital city Madrid could benefit from Brexit. Swiss bank UBS is reportedly transferring about 300 investment bankers out of London, and Madrid is a likely destination for them.
"London was basically a good place to start a technology company because you had the experience, you had the capital and it was relatively easy to start a company in terms of paperwork," Ricardo Varela, Founder of Localistico, told Euronews. "The problem with all of the Brexit is to see how it affects, particularly both fiscal measures and short-term financing. As announced the fluctuation of the pound for example, several of our suppliers and some of our workers who are here in Madrid because the fluctuation pound versus the euro already gave them a problem in terms of charging less."
There are close links between Madrid and London. Spain gets a lot of finance from the UK.
"In my opinion up to around 20 percent of companies could leave the UK for the European Union but also consider setting up branches and operations within the European Union to make sure they maintain the European marketplace," Adam Austerfield, Vice-President of the British Chambers of Commerce in Spain told Euronews. "UK companies have a great consideration for Madrid in these days."
Meanwhile, Madrid is making efforts to attract British talent. The region has spend a lot of money over the last couple of years to encourage foreign investment. And more than 75 meetings have been held with British companies and investment funds.
"Slightly less than two years is the time left to the European Union and the United Kingdom to negotiate the breach agreement. A predictable hard Brexit would favor the displacement of British companies or the opening of offices in other countries. The movements are slow, still almost imperceptible, but the Spanish capital is trying to take advantage of cities like Paris, Frankfurt or Dublin," reported Euronews correspondent Carlos Marlasca in Madrid."