"Brussels gossip" says UK PM over reports of friction with EU chief
Comments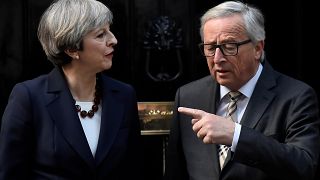 Theresa May has dismissed an account of a "difficult dinner" with Jean-Claude Junker as mere "Brussels gossip".
German and UK media claim the pair clashed over the British Prime Minister's desire to make Brexit a success and whether the issue of protecting the rights of expat UK and EU nationals could be agreed as early as June.
Report from Frankfurter Allgemeiner Zeitung gives worrying insight into delusion at top of UK govt. Not strong & stable but screwed & scared https://t.co/zF38RGpuZ7

— Paul Kavanagh (@weegingerdug) May 1, 2017
Playing down any friction May said her meeting with the chief of the European Commission had gone well.
"I have to say that from what I've seen of this account, it's Brussels gossip. And just look at what the European Commission themselves said immediately after the dinner took place, which was that the talks had been constructive. But it also shows that these negotiations are at times going to be tough."
May and Junker met last Wednesday for a dinner ahead of talks over Britain's departure from the EU.
Since then the bloc's 27 other members have adopted a united stance on Brexit and urged the UK to be more realistic in its approach.