'We won't go away, welcome to your hundredth day', climate marchers hold rallies in the US
Comments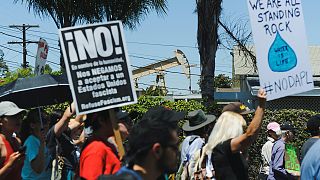 President Donald Trump's inauguration was greeted with the Women's March, and as he marks 100 days in office, tens of thousands of people marched on Washington to demand he rethinks his climate change policies.
'We won't go away, welcome to your hundredth day', chanted protesters as they passed in front of Trump Hotel.
Many at the People's Climate March are angered at Trump's moves to rollback environmental protections put in place by the previous administration.
"We all need to stand together. We all need to work for one common cause, and that's our planet," said on DC protester. Others had some suggestions for Trump's administration: "Invest in renewables, invest in alternative energy, this country should be a leader on alternative energy. Let's move forward."
While marchers in Washington dealt with a heatwave, protesters in Denver braved the snow, adding a visual metaphor to their rallies. Activists hope that the demonstrations will build support for green candidates ahead of midterm elections and eventually the 2020 presidential race.
Nine clever signs from the Climate March https://t.co/YMu8eI6f1Mpic.twitter.com/ccdzEKsI9c

— The Hill (@thehill) April 29, 2017
Leonardo DiCaprio used a standard, office file folder for his climate march sign, lol https://t.co/KjGKcH0e9u#Tech#Technologypic.twitter.com/hvXEd9V8UA

— Sohail Ahmad (@CEOatMobiVerse) April 29, 2017