Trump burns down Obama's climate legacy
Comments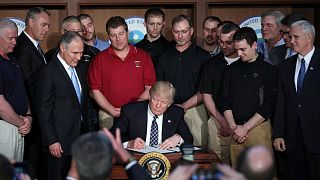 After failing to undo Obamacare, US President Donald Trump has started to roll back most of his predecessor's climate change legacy.
Surrounded by coal miners at the Environmental Protection Agency (EPA), Trump on Tuesday signed an executive order that directs the agency to start the legal process of withdrawing and rewriting the Clean Power Plan.
The Clean Power Act limits carbon pollution from power plants and was considered the center-piece of former President Barack Obama's climate policy.
During the signing ceremony, Trump said that the order will "eliminate federal overreach" and "start a new era of production and job creation."
"My action today is latest in steps to grow American jobs," Trump added, saying his order is "ending the theft of prosperity."
While Trump's administration has said reducing environmental regulation will create jobs, some green groups have countered that rules supporting clean energy have done the same.
The number of jobs in the US wind power industry rose 32 percent last year while solar power jobs rose by 25 percent, according to a Department of Energy study.
In addition, energy analysts and executives have questioned whether Trump's moves will have a big effect on their industries.
"I cannot tell you how many jobs the executive order is going to create but I can tell you that it provides confidence in this administration's commitment to the coal industry," Kentucky Coal Association president Tyler White told Reuters.
The order represents a clear difference between how Trump and Obama view the role the United States plays in combating climate change, and dramatically alters the government's approach to rising sea levels and temperatures — two impacts of climate change.
Tuesday's executive action was only the beginning, as other agencies across government will receive directives from Trump as well.
The president wants the agencies to rescind a moratorium on coal leasing on public lands; rewrite limits on methane emissions from the oil and gas industry; and ignore the EPA's current calculation on the costs of carbon pollution.
There are also broad directives reversing an Obama initiative requiring that federal departments consider climate mitigation strategy and the national security risks of global warming.
Democrats and climate experts reacted with sharp criticism. "This is not just dangerous; it's embarrassing to us and our businesses on a global scale to be dismissing opportunities for new technologies, economic growth, and US leadership," the former EPA Administrator Gina McCarthy said in a statement.
Senator Edward Markey called Trump's actions "a declaration of war on American leadership on climate change and our clean energy future.
"These actions are an assault on American values and they endanger the health, safety and prosperity of every American," San Francisco billionaire and climate activist Tom Steyer, the president of NexGen Climate, said in a statement.
"Trump is deliberately destroying programs that create jobs and safeguards that protect our air and water, all for the sake of allowing corporate polluters to profit at our expense."
Trump's executive order follows his past comments about climate change. Though Trump said during the election that he has an "open mind" about confronting climate change, he also once called it a hoax.
"The concept of global warming was created by and for the Chinese in order to make U.S. manufacturing non-competitive," Trump tweeted in November 2012.
"I will also cancel all wasteful climate change spending from Obama/Clinton," Trump said in October 2016.
On Tuesday, White House press secretary Sean Spicer declined to say whether Trump still believes climate change is a hoax.
"He does not believe … that there is a binary choice between job creation, economic growth and caring about the environment," Spicer said. "That's what we should be focusing on."