Serbia reacts to refusal of French court to extradite former Kosovan PM
Comments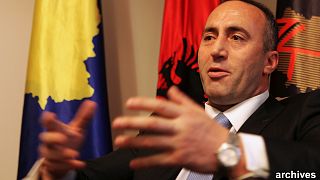 A French court has refused to extradite the former Kosovan Prime Minister to Serbia to face trial for alleged war crimes.
Ramush Haradinaj had been arrested when he arrived in France in January this year, on the basis of an international warrant issued by Serbia in 2004.
He was released with immediate effect once the court in Colmar, eastern France, had made its decision.
From the steps of the court, Haradinaj said:
"I have wasted four months during this judicial process. It should have been easier and faster. Of course this judicial decision allows me to pursue my duties, but I still lost four months."
the charges
Serbia alleges that Haradinaj is guilty of war crimes dating back to his role as a guerilla commander during the 1998-99 Kosovo war.
He has already been tried and acquitted, twice, of war crimes by the United National International Criminal Tribunal for the former Yugoslavia.
Serbia's reaction
Serbia has responded angrily to the news, withdrawing its ambassador to France for consultation, and pledging to lodge a protest note.
It had previously said that it would abolish its extradition treaty with France if Haradinaj were not handed over.
Speaking at a press conference, Serbian Prime Minister Aleksander Vucic said:
"The Republic of Serbia, the government of the Republic of Serbia, believes that the decision is shameful, scandalous, unlawful, absolutely unjust and, above all, political."
He said that "the highest moral and legal principles" were at stake, rather than politics.
#Serbia delegation left the PACE session in Strasbourg to protest against the release of Ramus #Haradinajhttps://t.co/6zL68EHDFg

— Adelina Marini (@AdelinaMarini) April 27, 2017
Festivites in Kosovo
In Pristina, Kosovans have taken to the streets to celebrate.
The Alliance for the Future of Kosovo said that the detention had been completely unnecessary and was "Serbia's open attempt to destabilize Kosovo".
Kosovan Prime Minister What Hashim Thaci, said:
"This is good news for Kosovo. Justice had won. Serbia was just speculating. This is a capitulation of Serbia. Serbia committed war crimes in Kosovo, and ethnic cleansing. They committed genocide of the citizens of Kosovo. Once again, it has been confirmed that the Kosovo Liberation Army was not guilty of anything, and this is just a confirmation of Kosovo's justified fight."