101-year-old Indian woman wins 100 metre 'sprint'
Comments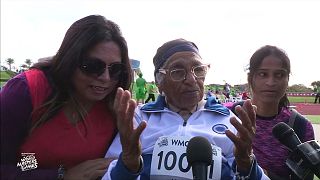 The World Masters Games in Auckland, New Zealand, played host to a very special race this week.
101-year-old Man Kaur won the 100 metre race in the 100-years-plus category.
Kaur, from the Punjab region of India, completed the race in a time of 1 minute and 14 seconds. That is just 64 seconds off Jamaican Usain Bolt's world record.
"I'm very happy being here. I feel like everybody is my son," she told reporters.
She may have been the only competitor in her age group, but that didn't stop the Indian from celebrating like the world-record holder Bolt.
Kaur joined the Masters circuit at age 93, after her son (aged 79) recommended it.
She has more than 20 medals, including Gold for shot put and javelin from the American Masters games in 2016.