Hollande calls on voters to back Macron in run-off ballot
Comments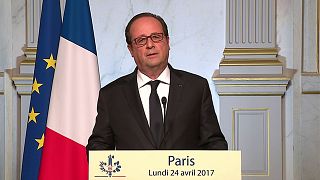 French President Francois Hollande has called for voters to back centrist Emmanuel Macron in the run-off ballot in the presidential election.
Hollande warned that far-right leader Marine Le Pen would be a "massive risk" for the economy and jobs.
In a televised address in reaction to the results of the first round of the election, the French president said only Macron would "defend the fundamental values" of the republic.
Hollande made a particular warning about Le Pen's stance against the euro currency and the European Union, saying thousands of jobs would be at risk and the spending power of people would be slashed.
He also said that at a time of worrying insecurity, France needs a leader who unites the country.
The run-off vote will take place on May 7.
The defeated right-wing candidate Francois Fillon and Socialist contender Benoit Hamon have also called on supporters to vote for Macron.