French election: A difficult choice for voters
Comments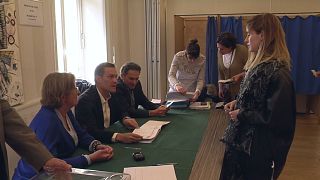 As the French head to the ballot box, some have left their choice for president to the last moment.
Leading up to the election, more than a quarter of voters were still undecided about who to support.
In Lyon voters had mixed feelings about the choice facing France.
One father said: "I think the candidates aren't bad. There is a lot of choice, so it's good for democracy. But the choice isn't clear. It's a difficult election."
Another voter added: "I decided at practically the last moment. It was complicated."
"It was very complicated. Because the policies aren't entirely what we would love and we don't know that the candidates will do what they say. It's not clear."
Despite the hard choice, one man was happy to see lots of voters queuing up.
"It's the first round, I think the second round will be harder," he said.
"There are a lot of candidates, it's good so many people are here, it's important."
But one woman was clear about her decision: "I made my choice a long time ago, without hesitation."
In such a closely-fought election, last-minute voters could make all the difference.