Funeral held for Russian marine major killed in Syria
Comments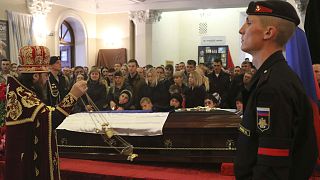 The funeral has taken place in Crimea for a Russian marine major reportedly killed in combat in Syria.
The circumstances surrounding the death of Major Sergei Bordov remain unclear but he is said to have been killed on Tuesday amid shelling.
Russia is supporting the regime of Syrian President Bashar al-Assad in his war against rebels and militants.
Officials in Moscow say some 30 Russian personnel have been killed in Syria since operations began there in September 2015.
But the Reuters news agency says evidence it has collected shows the death toll among Russian servicemen and private military contractors is higher than that.