Growing problem of space debris could hinder future exploration
Comments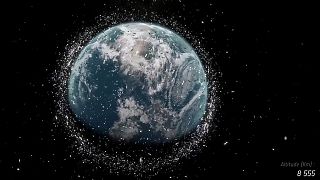 Scientists are voicing concern about the growing danger of space debris spinning around our planet.
As the amount of junk from satellites and rockets increases, there are concerns that future space exploration could be hindered.
The subject has been discussed at a conference in Darmstadt in Germany.
The European Space Agency (ESA) says at least three quarters of a million objects larger than one centimetre are orbiting Earth.
Holger Krag, the ESA's head of department for space debris, said: "When something hits a satellite, the speed on impact is 40,000 kilometre an hour.
"At these speeds even tiny objects of just a few millimetres can cause enormous damage.
"So what we are dealing with here is a danger to our infrastructure in space caused by space debris."
Experts say some 18,000 objects are now being monitored by surveillance systems.
Designs for future missions to capture and remove the hazardous items are being developed, including the use of nets to try to collect the debris.
Satellites and the International Space Station sometimes have to make manoeuvres to avoid collisions with debris.