USA: Pence calls North Korea failed missile test a 'provocation' on visit to Seoul
Comments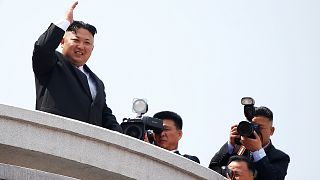 The United States is mulling its response to North Korea's failed missile test.
The launch came a day after Pyongyang held a grand military parade, displaying what appeared to be new long-range ballistic missiles.
Arriving in South Korea, the US Vice President Mike Pence called the test a 'provocation' and said the tensions had put a sharp focus on the importance of the joint US-South Korean mission.
"Under President Trump's leadership, our resolve has never been stronger. Our commitment to this historic alliance with the courageous people of South Korea has never been stronger. And with your help and with God's help, freedom will ever prevail on this peninsula," Pence said.
South Korea, which hosts more than 20,000 US troops warned of punitive action, saying the North's show of force 'threatened the whole world'.
The White House said the US is working with its allies, including China, to develop a range of options, military, diplomatic and other to respond to the threats from North Korea.