Global tensions continue to climb over North Korea
Comments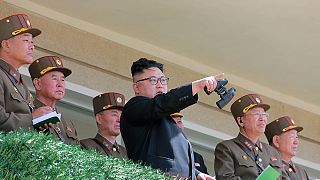 China says tension over North Korea has to be stopped from reaching an "irreversible and unmanageable stage".
Concern has grown since the US Navy fired 59 Tomahawk missiles at a Syrian airfield last week, in response to a deadly gas attack.
The attack raised questions about US President Donald Trump's plans for North Korea.
Pyongyang has conducted missile and nuclear tests in defiance of UN and unilateral sanctions.
North Korea is expected to conduct its sixth nuclear test by this weekend. https://t.co/vrkGPLH4Q1

— Foreign Policy (@ForeignPolicy) 14 avril 2017
What China says
China is North Korea's sole major ally and neighbour.
Nevertheless, it opposes its weapons programme and has called for talks leading to the denuclearisation of the Korean peninsula.
"We call on all parties to refrain from provoking and threatening each other, whether in words or actions, and not let the situation get to an irreversible and unmanageable state," Chinese Foreign Minister Wang Yi told reporters in Beijing.
#BREAKING "There can be no winner" in war over North Korea: China

—

AFP

news agency (@AFP) 14 avril 2017
Air China has suspended flights between Beijing and Pyongyang from next Monday.
What the US says
Washington has warned that its policy of "strategic patience" is over.
US Vice President Mike Pence travels to South Korea on Sunday on a long-planned 10-day trip to Asia.
Vice President Pence heads to Seoul as North Korea tensions flare https://t.co/EK2pZ0VGknpic.twitter.com/hIpZTbuWkX

— Reuters Top News (@Reuters) 14 avril 2017
The USS Carl Vinson aircraft carrier is in western Pacific.
What South Korea says
US ally South Korea warned against any North Korean "provocation".
"If North Korea conducts a strategic provocation such as a nuclear test or an intercontinental ballistic missile launch, there is certain to be powerful punitive measures that will be difficult for the North Korean regime to endure," said South Korea's Foreign Ministry said in a statement.
On the streets of Seoul, concerns about the North Korea threat are drowned out by daily life https://t.co/fjaAem1cq8

— Wall Street Journal (@WSJ) 14 avril 2017
What has North Korea said?
Pyongyang has denounced the US for bringing "huge nuclear strategic assets" to the region.
The USS Carl Vinson aircraft carrier is in the area.
#USSCarlVinson heading for Koreas is a mammoth machine of war meant to awe: RaviVelloor</a> <a href="https://twitter.com/hashtag/NKorea?src=hash">#NKorea</a> <a href="https://twitter.com/hashtag/ThisWeekAroundAsia?src=hash">#ThisWeekAroundAsia</a> <a href="https://t.co/2BgcyHI6NY">https://t.co/2BgcyHI6NY</a> <a href="https://t.co/UWMJwtAhX9">pic.twitter.com/UWMJwtAhX9</a></p>&mdash; The Straits Times (STcom) 14 avril 2017
A spokesman for the North Korean Foreign Ministry's Institute for Disarmament and Peace issued a statement condemning the US for its attack on the Syrian airfield.
"The US introduces into the Korean peninsula the world's biggest hot spot, huge nuclear strategic assets, seriously threatening peace and security of the peninsula and pushing the situation there to the brink of a war," said the North's KCNA news agency on Friday.
#DPRK reaffirms strategy to develop nuclear strike capability to foil U.S. ambition, the Korean Central News Agency (KCNA) reported Friday. pic.twitter.com/VJqPYpiXMv

— People's Daily,China (@PDChina) 31 mars 2017