Legal rulings halt Arkansas 'assembly line' executions
Comments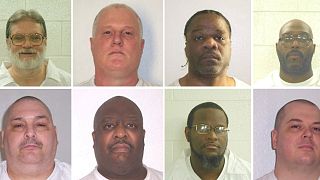 What critics branded an 'assembly line of executions' by the US state of Arkansas has been put on hold after separate court rulings.
The plan was to put to death seven inmates by lethal injection over an 11 day period from Monday.
But now one of them, Bruce Ward, 60, has been granted an emergency stay of execution by the Arkansas Supreme Court. His lawyers argued that he was schizophrenic, saying that this should be taken into consideration.
Less than two hours later, the executions of the six other convicted murderers were put on hold when an Arkansas circuit judge issued a temporary restraining order.
It barred the state from administering one of three drugs it planned to use in the deadly cocktail.
The eleventh-hour reprieve marks a victory, for now, for death penalty opponents who had gathered outside the Arkansas statehouse on Saturday.
Among them was film star Johnny Depp, accompanied by former death-row inmate Damien Echols.
Johnny Depp is speaking as a friend of Damien Echols pic.twitter.com/vDqviqnBGM

— Erika Ferrando THV11 (@ErikaFerrandoTV) 14 avril 2017
Arkansas hasn't put anyone to death for over a decade. The European Union has urged it to commute the death sentences.
But Republican Arkansas Governor Asa Hutchinson had wanted to proceed swiftly with the executions as one of the chemicals in the difficult-to-obtain lethal injection, the sedative midazolam, expires at the end of April.
with Reuters