Lyon and Besiktas charged as UEFA investigates crowd violence
Comments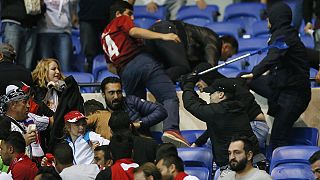 UEFA has decided to launch an official investigation into the violence at Thursday night's Europe League match between hosts Lyon and Besiktas.
Thousands of French Turks made the journey to Lyon's new stadium for the first leg, and many paraded through the city centre with flares ahead of the tie.
Locals accuse the Turks of starting the trouble, but there have also been criticisms about the stadium management, with questions asked about why so many visiting fans were allowed to crowd into one area, forming a bloc.
The game could not begin on time as fighting between the fans took 45 minutes to bring under control with tear gas and police charges. Besiktas fans in the top tier threw objects onto the home fans below, and armed Lyon fans also broke into the visitors area to start fights.
Lyon have been hit by four UEFA charges, Besiktas three.
Lyon are charged with setting off of fireworks, blocking stairways, insufficient organisation and a pitch invasion after a late winning goal.
Besiktas' three charges relate to the setting off of fireworks, the throwing of objects and crowd disturbances.