Syria's president says claim his forces used chemical weapons is "100% fabricated"
Comments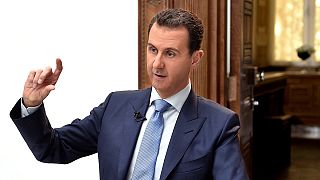 Syrian President Bashar al-Assad has said a suspected chemical attack blamed on his forces is a "100 percent fabrication."
The US believes Syria's military dropped the toxic nerve agent Sarin on the town of Khan Sheikhoun in Idlib province on April 4, but Assad insists the whole thing was staged to prompt an American response.
"Our impression that the West, mainly the US is hand in glove with the terrorists, they fabricated the whole story in order to have a pretext for the attack. We don't know whether those dead children were they killed in Khan Sheikhoun, were they dead at all? Who committed the attack if there was an attack? What the materials? You have no information at all, nothing at all, none investigated," said the Syrian president.
More than 80 people were killed in the rebel-held town following the suspected strike.
Hundreds also suffered symptoms consistent with a chemical attack.
Russia says a rebel weapons depot was hit in airstrikes, while Assad says Syria gave up all its chemical weapons in 2013.
"There was no order to make any attack, we don't have any chemical weapons, we gave up our arsenals two years ago, even if we had them, we wouldn't used them and we have never used our chemical arsenal in our history," added Assad.
Global chemical weapons experts have reportedly gone to Turkey to collect samples taken from Khan Sheikhoun.
Assad has said he will only allow an investigation once his government is sure the countries participating are unbiased.