Chemical killer slays 22 members of the same Syrian family
Comments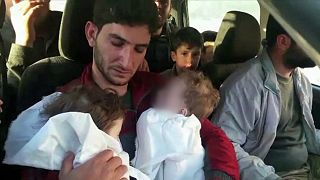 Global powers debate, argue and look to ways to exploit the chemical attack on Khan Sheikhun in Idlib province, northwest Syria.
But the reality for those targeted is a bundle of grief, fear and fury.
Here are two eyewitness accounts from those bereaved by this callous disregard for international law.
Syrian father cradles gas attack victims – Abdel Hameed al-Youssef cradles his dead twins after the suspected c… https://t.co/I9Z4jvFpu9

— Pedro Muñoz Lorite (@PMunozLorite) April 5, 2017
Abdel Hameed al-Youssef lost his baby twins, his wife and 22 extended family members:"We buried them. I took Ahmed and Aya and buried them with my brothers. I buried my kids with my own hands. My wife and my brothers. I used to call them blondies, my son, come to see papa, Aya, my soul, my loves, my Aya. I was right beside them. I took them outside with their mother. They were conscious, but 10 minutes later we could smell it, the gas, and my children couldn't handle it anymore. I left them to the medics and went to find my family."
Aya Fadl, teacher is a member of the same family:"I took my son and left the house with my husband. On the way, a big lorry stopped us and told us that they had many dead people. We saw our relatives. All were my relatives, my friends, my neighbours. I can't believe it. My God. Children,Ammar, Aya, Mohammad and Ahmed; I love you, my birds. I saw them, they were dead. All are dead now."
Witnesses say four rockets struck around 6:30 a.m. Tuesday, smashing a crater in the ground, but causing minimal structural damage. It quickly became clear this was not a conventional attack.