Amid calls for inquiry, Syria again denies chemical attack
Comments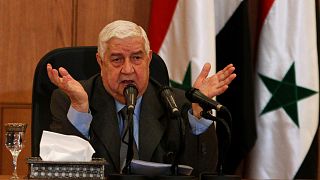 Images from the Syrian town of Khan Sheikhoun on Thursday showed men collecting evidence from the site of the chemical attack that killed at least 70 people including children.
This as Damascus again denied it was behind the attack, despite being blamed by Western countries including the US.
The Syrian foreign minister called a media conference in the face of mounting international pressure and commented on Russia's idea of an inquiry.
Walid Moallem said: "There are a number of questions relating to the formation of such a commission.
"We need to ensure that it is not politicised, that it is neutral, with broad representation, and that it should start its work from Damascus, not from Turkey."
The UN says it hopes the shock over the attack will lead to more a concerted effort to achieve peace.
Jan Egeland, the Special Advisor to the UN Envoy for Syria, said: "I hope that this is a watershed moment, with all of these world leaders saying that they have again woken up to the suffering of the civilians that we see every single day.
"I hope that it's a re-birth really for diplomacy, both humanitarian and political."
Burials have taken place for many of the victims of the chemical attack.
Russia and Syria have suggested there was a leak at a depot where rebel groups were storing chemical weapons, but that has been rejected by Western countries.