France: National Front Paris HQ hit by arson attack
Comments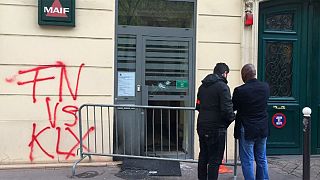 The Paris headquarters of France's far-right National Front was hit by a suspected arson attack on Thursday.
No one was injured in the overnight incident, which caused only minor damage.
Authorities said the fire was quickly brought under control.
A left-wing group calling itself "Kombattre La Xénophobie", or Fight Xenophobia, is thought to have carried out the petrol bombing.
KLX was scrawled in graffiti at the front of the political party's office.
Leader Marine Le Pen later blamed leftist groups for the attack.
The far-right candidate is a leading contender in France's presidential election, and tipped to make the contest's second round run-off.