Financial scandals of Marine Le Pen and French politics
Comments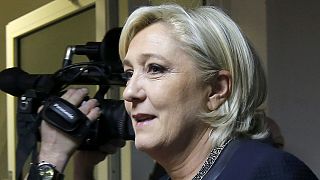 Marine Le Pen's presidential campaign has been carefully coordinated and tightly controlled but she, like many of her political rivals, has fallen foul of controversy.
She is being investigated for the alleged misuse of EU funds and for tweeting pictures of ISIL violence.
Political writer Jean-Yves Camus believes none of those claims will slow her party's progress: "She is surrounded by a new generation of militants who absolutely have no intention of staying in opposition for 30 years, without occupying elected posts or without arriving one day in a position of power. So she's doing what has to be done. She's doing what's necessary for this party to become more acceptable."
Nonetheless, lenders have refused to bankroll her presidential bid, putting her at a financial disadvantage to her rivals.
But that appears not to have stopped her from running what she describes as a "joyful campaign."
European parliamentary assistants
Her chief of staff was put under formal investigation after a day of questioning over the alleged misuse of EU funds to pay parliamentary assistants.
In reaction to the news, Le Pen said that she formally denied any wrongdoing in a case that she said was being used to undermine her campaign.
The European Parliament questioned the reality of the work of 29 of the 60 parliamentary assistants of Front National (FN) deputies. The latter would have worked more for the FN than on European files, directly with Marine Le Pen or as cadres of the party.
If these doubts were confirmed by the investigators, they would be fictitious jobs financed by the European taxpayer. The damage is estimated at around 5 million euros from 2010 to 2016.
The European anti-fraud office, OLAF, conducted an administrative inquiry for several months and asked, in June 2016, six deputies, Marine and Jean-Marie Le Pen, Bruno Gollnisch, Mylène Troszczynski, Sophie Montel and Dominique Bilde, to reimburse these salaries, but in the case of Marine Le Pen, the latter has refused and his next allowances of MEPs will be required to repay the sum of 300,000 euros.
In January 2017, she retaliated by filing a complaint for "false intellectuals" in Brussels.
An inquiry was launched on December 15 into a range of charges connected to the FN's employment of EU parliamentary assistants.
The interior ministry also filed a lawsuit against Florian Philippot, vice-president of the Front National, for defaming anti-corruption policemen who are investigating suspicions of fictitious jobs of the party in the European Parliament.
On the set of BFMTV, the latter had assimilated the investigators of the Central Office for Combating Corruption and Financial and Fiscal Offenses to a "political police".
Illegal Campaign Financing *
 
A close aide to Marine Le Pen was charged amid an inquiry into the party's financing.
Frederic Chatillon had already been charged earlier in the week with "misuse of company assets". He is head a firm contracted by Le Pen's party.
Days earlier another aide to the far-right leader was charged in a separate investigation over suspicions that party members used European Parliament money to fund party activities in France.
The party denied wrongdoing.
ISIL

Photo Publications *
In 2015 Le Pen posted graphic images of ISIL executions including the beheading of United States journalist James Foley.
French police seek to investigate Le Pen regarding the images and could level charges against her for "publishing violent images." The offense can be punishable to up to three years in prison and carry a fine of €75,000.
As an MEP, however, Le Pen is immune from prosecution. But acting on a request by the French judiciary, the EU parliament's legal affairs committee overwhelmingly took the first step to allow a police investigation.
The vote was confirmed by eurosceptic 5 Star Movement lawmaker Laura Ferrara. Eighteen MEPs voted in favour of lifting Le Pen's immunity overriding the three who voted against the move.
Florian Philippot, the National Front's vice president came to Le Pen's defence telling Reuters showing "and naming the horror of Islamism allow us to fight against it."
In 2013 Le Pen's immunity was lifted, and she was prosecuted two years later for "incitement to discriminate over people's religious beliefs" for comparing Muslims praying in public to the Nazi occupation of France. The charge would be later dropped.
Le Pen's candidacy has been mired in controversy. She publically denounced government civil servants, including the police and judicial magistrates, of bias against her campaign and using state influence and resources on behalf the Élysée.
She has additionally called for a moratorium on legal proceedings against her until after the election. Her camp is also working to overcome a separate investigation into alleged misuse of EU funds.
France's long history of financial scandals
Former president Jacques Chirac was given a two-year suspended prison sentence for misusing public funds in 2011, and Alain Juppe who was prime minister in the '90s, was convicted of a similar offence committed in 2004.
There has been some progress however after an anti-corruption law was passed in 2013.
It came shortly after Jerome Cahuzac, a former minister responsible for fighting tax corruption was ironically himself convicted of stashing money in secret bank accounts in Switzerland and Singapore.
He was sentenced to three years in prison after months of proclaiming he was innocent.
Marine Le Pen has long campaigned on cleaning up the corruption at the heart of mainstream politics.
And as with Trump's America, many fear that populism may revolutionise French politics with the second round run-off just days away.